Doors at 8pm
8 – 15 $ sliding scale
This evening's program is curated by Leyya Tawil, the 2020 Suzanne Fiol Curatorial Fellow at ISSUE Project Room, in association with her NOMADIC SIGNALS series.
Porest is the outlet of post-American artist and producer Mark Gergis, a London-based Iraqi-American artist originally hailing from Oakland. Mark Gergis is a storyteller of dystopic currents; his shows are radio-like, as he streams between distorted Syrian rhythms, audio samples of otherlands and absurdist commentary.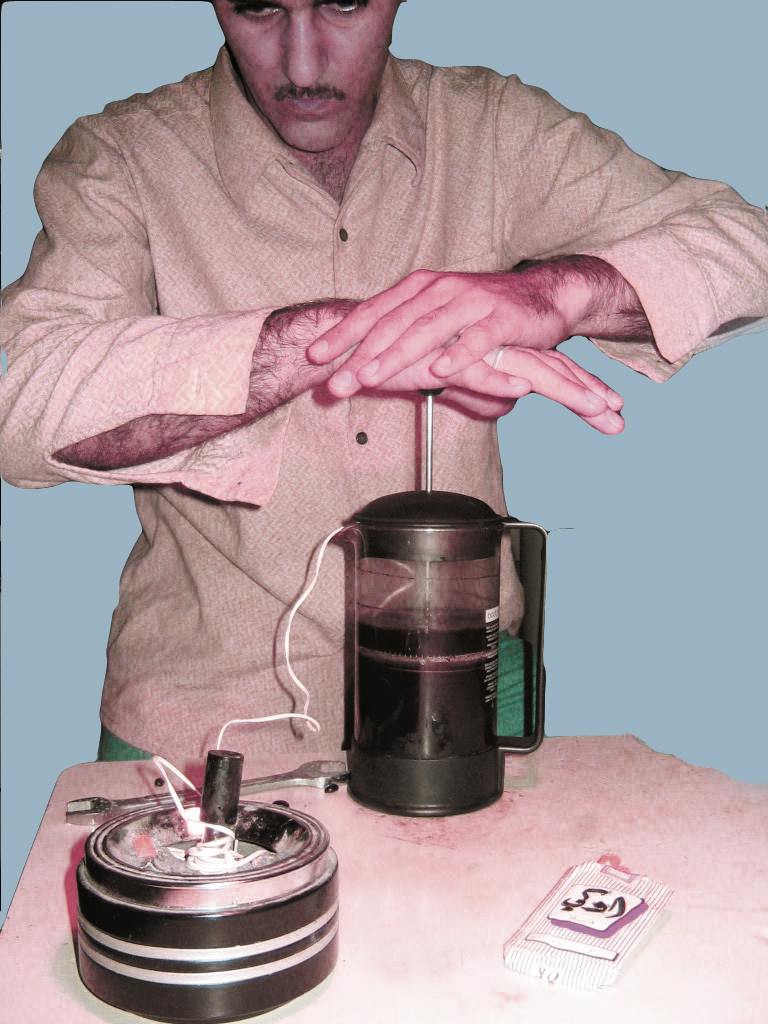 For decades, Porest has issued a trail of confounding agitprop sound art, post-globalized hate-pop, diabolical radio dramas, big songs and small songs. Porest's blatant embezzlement of human syntax and cultural misunderstanding broadcasts vital mixed messages across all fields, forging carefully rearranged realities that both avoid and indulge the inherent trappings of radical art and politics. Live performances integrate Porest's music, performance and sound into a grand total sum that can't be unseen. Porest has performed and toured worldwide, with albums released on Nashazphone (Cairo), Discrepant (UK), and in the US on the Seeland, Abduction and Resipiscent labels. In the 1990s and 2000s, Mark was co-founder of the long-running experimental performance collective Mono Pause, as well as its offshoot Neung Phak. In his other life, Mark is an archivist and producer for global music releases on the Sublime Frequencies and Sham Palace labels, including compilations and documentary works such as I Remember Syria, Cambodian Cassette Archives, Saigon Rock & Soul, Choubi Choubi (Iraq), Dabke: Sounds from the Syrian Houran and his extensive work with artists Omar Souleyman (Syria) and Erikin Koray (Turkey).
Tropical Noise Duo Las Sucias is an Experimental Caribbean Cacophony from the hands and lungs of hysterical brujas Danishta Rivero and Alexandra Buschman-Román, from Venezuela and Puerto Rico respectively. Rooted on Santería, Afro-Caribbean and Mestiza consciousness, through hybrid rhythms that include Raggaetón and Cumbia, Las Sucias booty smashes the limits put upon the brown female body by the patriarchy. Through powerful chanting and ritualistic vocal catharsis, they conjure the unapologetic screams of a loca, the deep-voiced lady screaming bible verses in the streets through a broken mic and the wounded voices of the colonized." – Hildegard Von Bingen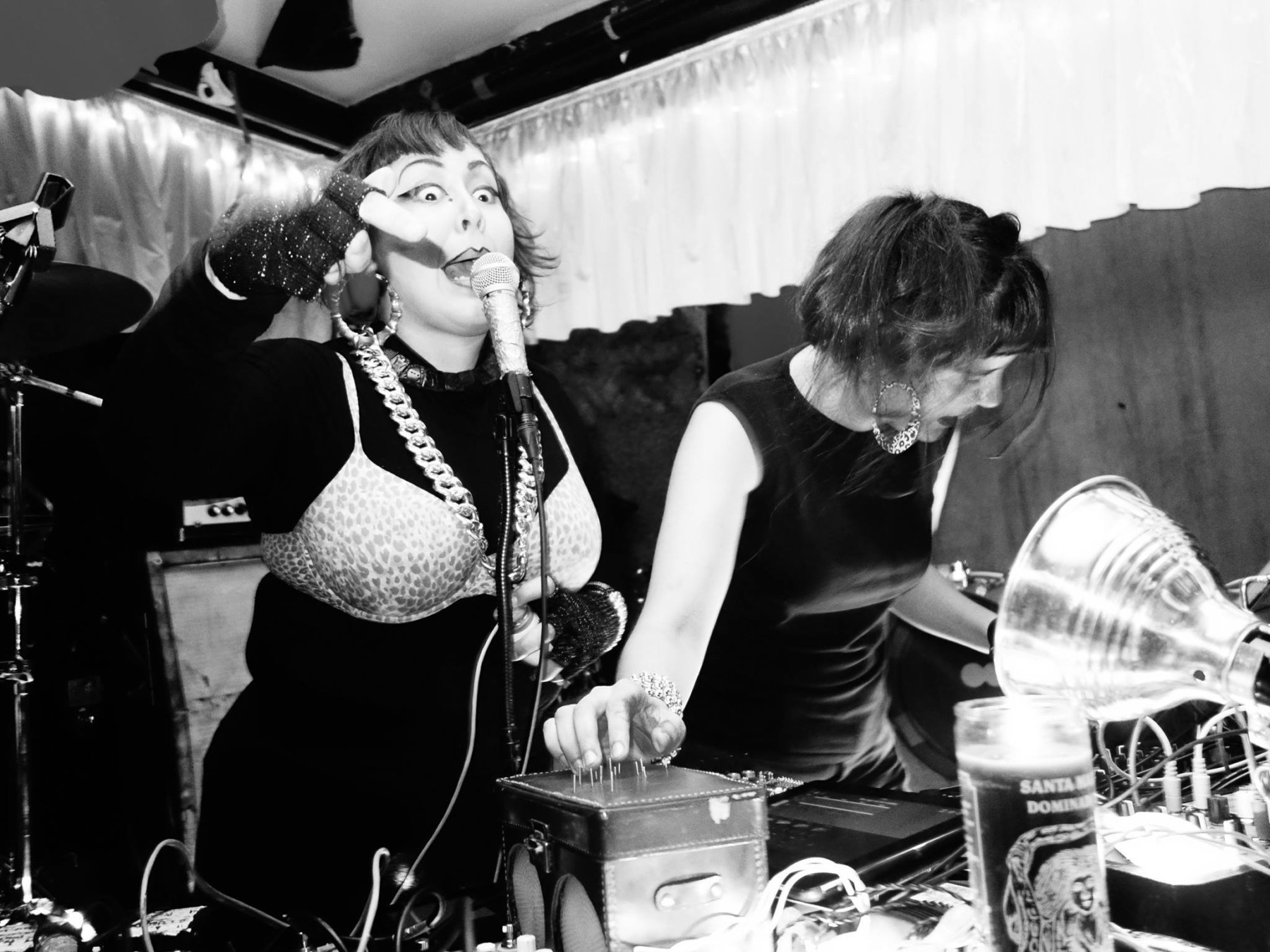 Alexandra Buschman-Román is a ground shaking radical Sound Artist, Composer, Vocalist, Percussionist and Improviser from Carolina, Puerto Rico, now based mostly in Oakland, CA. Most of her work has been around de-colonization of Noise music and sound experimentation, deconstruction of the traditional and folk, and the fusion of the old and the new. Her mission is to bridge sounds, cultures, space and time – reconnect the diaspora with the motherland, create spaces for marginalized and colonized artists, and glue communities together, all through sociopolitical radicalization of sound and music spaces.
Danishta Rivero is an improviser, performer, and sound artist originally from Venezuela, based in Oakland, California. She explores the artifacts resulting from heavy processing of the voice and their relationship to its acoustic resonating presence. She embodies this relationship to create visceral, sonic rituals. As a soloist, Rivero often performs as Caribay, conjuring the eponymous mountain spirit, whose laments cause avalanches. She is a member of electro-acoustic duo Voicehandler with percussionist Jacob Felix Heule.
Lime Rickey International is the superconsciousness of Leyya Mona Tawil, an artist working with dance, sound and performance practices. Tawil is a Syrian, Palestinian, American engaged in the world as such. Her articulation of Arab Experimentalism embeds political sub-narratives and cultural confusions into the performance fabric. Tawil has a 23-year record of choreographies and performance scores that have been presented throughout the US, Europe and the Arab world.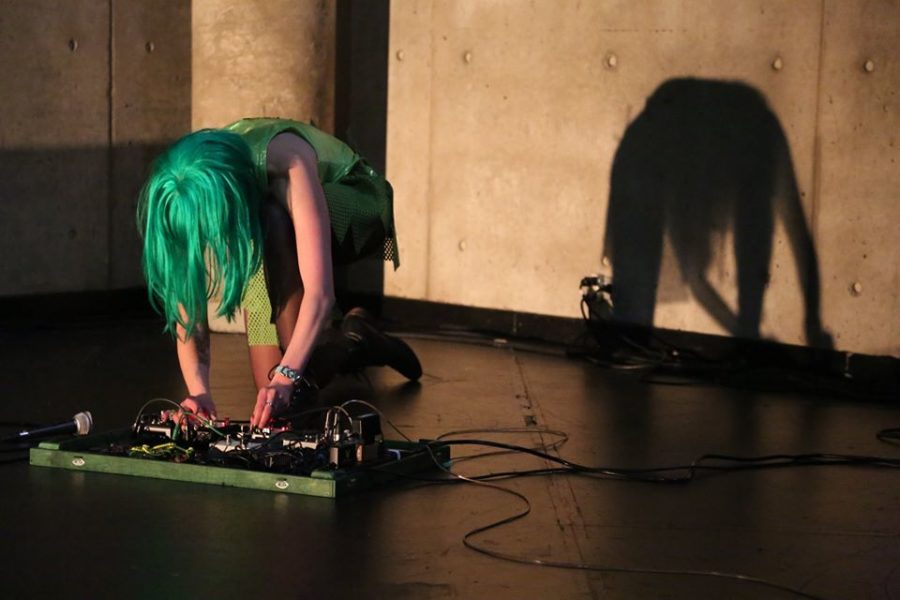 Lime Rickey International on fb