Friday 14 July 2023
Comfort Link
2$ Romance
Dave Smolen
Hatchers
8 pm / 10 -15 $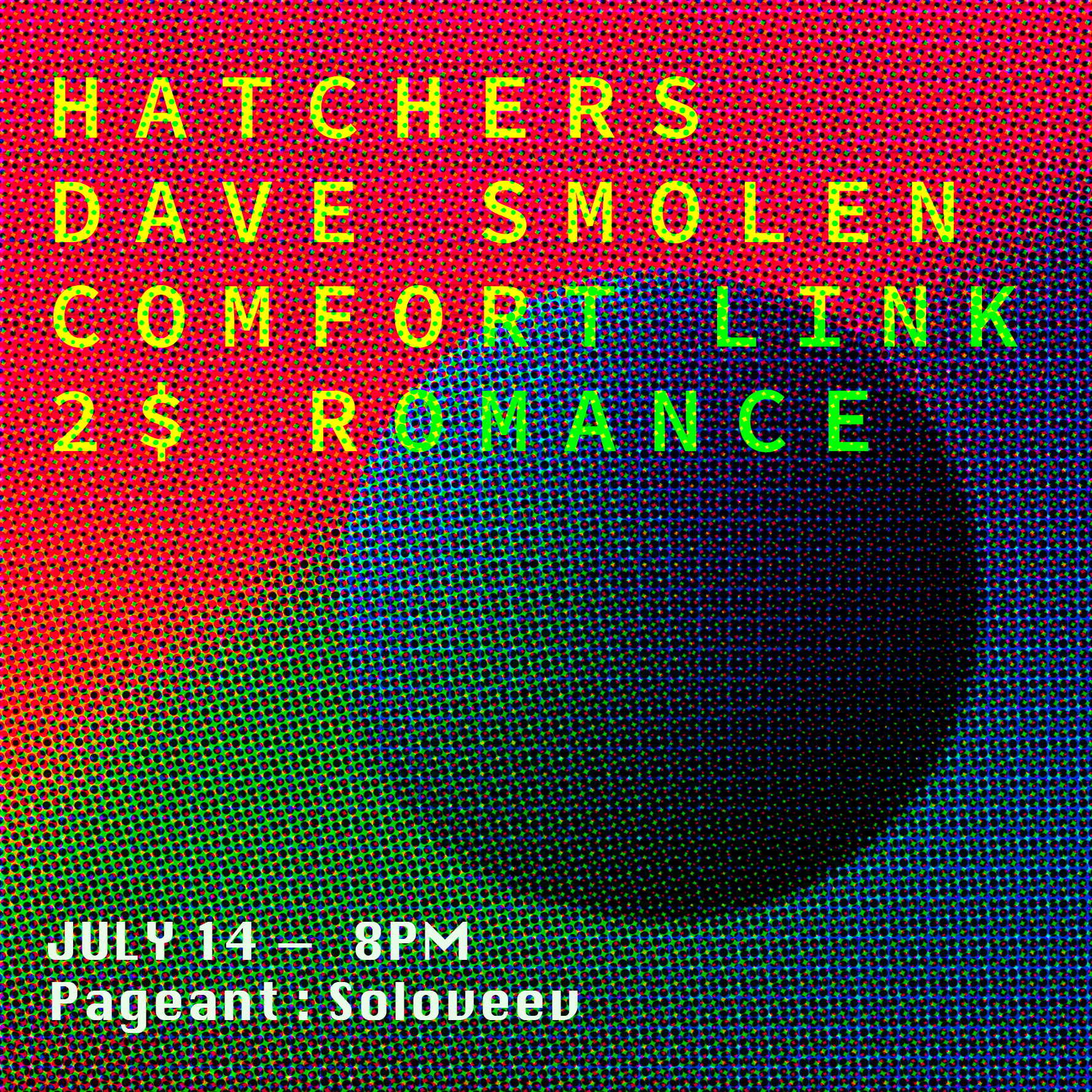 Comfort Link
The Concrete Muzak of Comfort Link ascended from a red shag-carpeted basement in Baltimore in 2012. Directed by Spleencoffin CEO Tim Wisniewski, Comfort Link drags the audio detritus of mid-century living room hi-fi culture through the dark and hissy tunnel of post-industrial noise.
Comfort Link at the True Vine fest
$2 Romance is the current project of Baltimore native Alex Strama. It is a blend of Noise, Psychedelic, Experimental, and Performance Art. Created using contact mics, guitar, voice, micro cassette, Casio SK-1, and amplifiers. Live sets are sometimes interactive, usually chaotic, and always CHEAP and RECKLESS.
Dave Smolen has been a part of Philadelphia noise since 2003.
For nearly the first half of that time, he played as a solo artist and released his first composition, Malleable Laminates in 2006. A multi-track composition for processed snare drums and electronics, the release served as the groundwork for his ever evolving hardware setups from guitar pedals to modular and later condensed to synth sequencing.
In 2010, Smolen began collaborating with the artist hair_loss, a duo which later became known as metasplice. The duo released the record Infratracts in 2013 via the Morphine imprint in Berlin to much critical acclaim. They continued to record and release music through the Philly imprint _bruxist and released their final full length, Mirvariates on The Trilogy Tapes in 2018.
2023 represents a reset of sorts for Smolen. After 12 years of collaborative improvisation he is continuing with his vocabulary of sounds developed over this time and re-entering music as a solo performer.
Hatchers is the electronics and drums duo of Michael Roy Barker and Brian Osborne. They improvise and / or spontaneously compose shards of sound that attempt to disrupt space and time. In short, they rip. However, sometimes it's chill. Brian currently performs in the doom / free jazz trio The Gate. Michael performs solo electronic music under the moniker Embarker. This is the first time they are playing together since March of 2020.
-notes courtesy of @send_help