SATURDAY
8 PM
$10
MASKS REQUIRED
Masks are required for all attendees as per City of Philadelphia's current guidelines for live performance venues. If you do not feel well or have been in close contact with someone who is experiencing symptoms of COVID-19 please stay home.
Marv (NC)
Synth masters duo of Nathan Taylor and Geoff Schilling.  Combining subtractive and fm synthesis with dub style production, Taylor and Schilling craft quiet and repeating motifs that form the basis of their captivating 'environmental' keyboard music.  The duo's recent LP Keyboard Suite Vol. I via embossed was described as a "modern classic" by Boomkat, already on its 3rd reprint.
Lazy Magnet (RI)
The nom de plume of Jeremy Harris, one of America's great freewheeling sonic drifters.  Whether it's through his various electronic music explorations, recent solo piano composition, or his more 'popular music' forms Harris approaches each project with a deft hand and attentive ear.  Lazy Magnet has released on Night People, Bathetic, and Feeding Tube records among many many others.  For this show Harris will be performing with a full band of rockers.
Lucy Liyou (PA)
Sound artist Lucy Liyou recently released Practice of Full Spectrum Records, named one of the best of 2021 by Sasha Geffen of Art Forum.  Combining piano, synthetic voice, and creative sound collage Lucy Liyou weaves cinematic pieces recalling themes of memory with nods to Korean culture and poetry.  A great musical storyteller.
Alec Livaditis (PA)
Recently relocated to Philadelphia, this longtime explorer of delicate electronics and cello performance is an expert in exercising restraint. Livaditis carefully crafts incredibly engaging collages of various electronics and acoustics.  Alec has released on Graham Lambkin's legendary Kye imprint and also heads up his own Silt Editions label.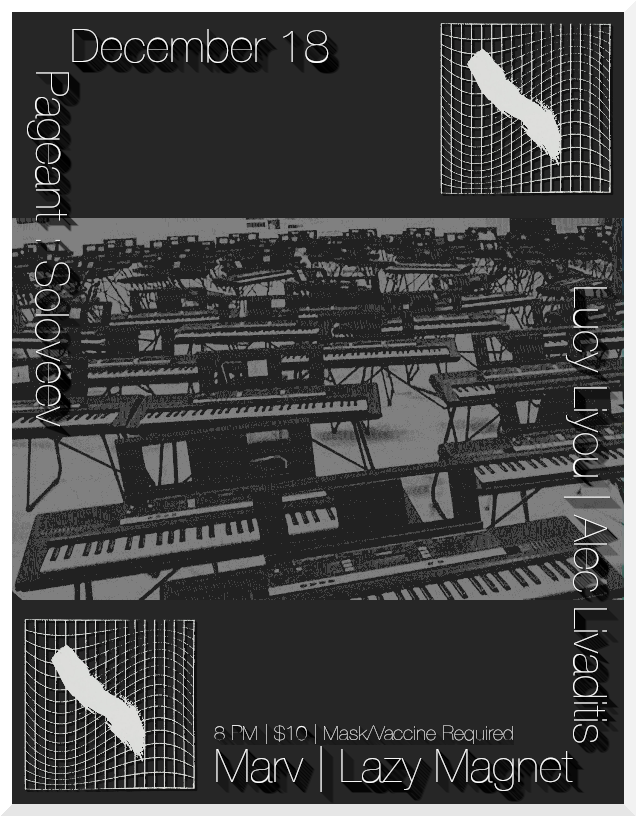 All texts by Pat Gallagher.